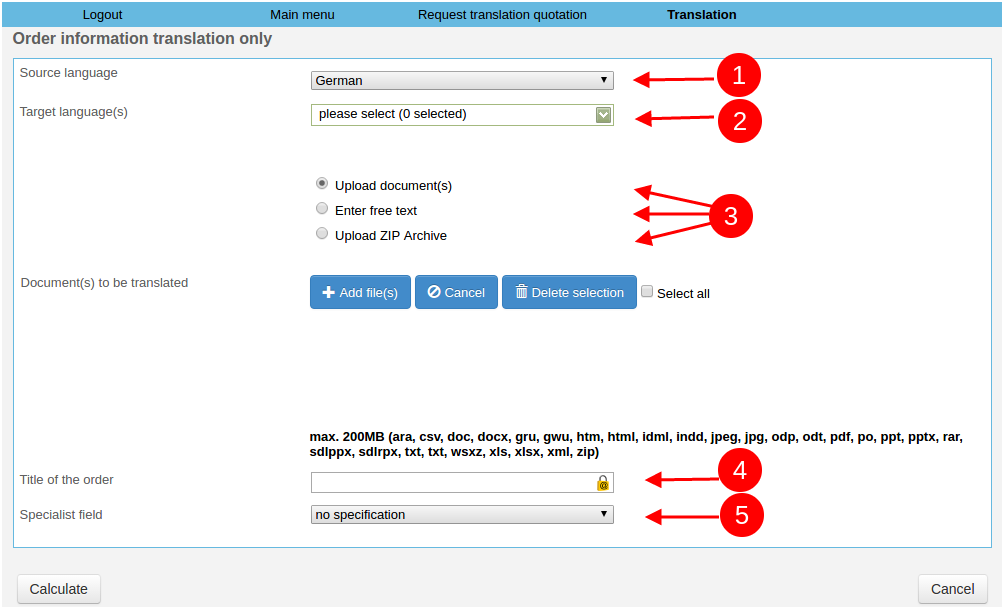 2

Sending text

Under Source language 1, select the language your text was initially written in.

Under Target language(s) 2, select the language(s) your text is to be translated into. You get to choose several here.

The next step 3 consists in selecting in which form you want to send us your text.
You can upload an already existing document, type in free text, or upload a ZIP archive.

If you want to upload an existing document, mark the point "Upload document(s)" and click on "+Add file(s)" to upload the desired file(s). You are not limited to one choice here as well.

Now 4 you will have to name your data or free text and also have the possibility to assign a specialist field to it 5.

You are now done with entering things. Click on "Calculate" in the left bottom corner to perform price calculation.
3

Price calculation

To accept the price and commission the translation, click on 1 the shopping cart icon. You can also request a special calculation via the other icon right beneath the shopping cart one

Under 2, you can print the offer.

Under 3, you can upload additional information

Under 4, you get an overview of the word count of your free text or uploaded document as well as informations concerning the price.

The expected delivery date is also given.